Waiting On Wednesday is a weekly meme hosted by Jill over at
Breaking The Spine
, that spotlights upcoming releases that we're eagerly anticipating.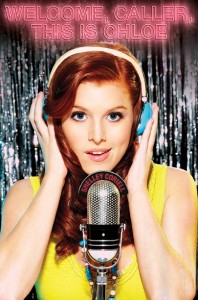 Welcome, Caller, This Is Chloe by Shelley Coriell
Published May 1st by Amulet Books
Big-hearted Chloe Camden is the queen of her universe until her best friend shreds her reputation and her school counselor axes her junior independent study project. Chloe is forced to take on a meaningful project in order to pass, and so she joins her school's struggling radio station, where the other students don't find her too queenly. Ostracized by her former BFs and struggling with her beloved Grams's mental deterioration, lonely Chloe ends up hosting a call-in show that gets the station much-needed publicity and, in the end, trouble. She also befriends radio techie and loner Duncan Moore, a quiet soul with a romantic heart. On and off the air, Chloe faces her loneliness and helps others find the fun and joy in everyday life. Readers will fall in love with Chloe as she falls in love with the radio station and the misfits who call it home.
There was this show that was on my kids channel called Radio Free Rosco that I absolutely loved to death when I was younger and this totally reminds me of it. I really love the colours of the cover, too. They're bright and normally wouldn't go together but definitely fit in here. Link me your WOW and I'll pop over!